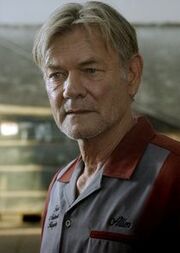 Allen Tuckfeld
is a character in
Bosch
. He is the owner and operator of a Los Angeles scrapyard and recycling centre named Tuck's Recycling. He frequently employs ex-convicts. One of his employees is
Michael Harris
.
Tuck's Recycling is a central location in the Black Guardian police brutality case. Detectives used the bathroom to torture Harris to try to obtain information about the whereabouts of an abducted girl. He was later proved to be innocent in the abduction resulting in a high profile lawsuit against the LAPD.
Tuckfeld is questioned by Detectives Harry Bosch and Jerry Edgar after it is discovered that Howard Elias may had access to video of the police brutality. The detectives find evidence that a camera was concealed behind a mirror in the employee bathroom - a hole in the mirror and a plastered up space behind it. Tuckfeld denies he accusations that he installed and operated the camera. Bosch delicately questions Tuckfeld until he carefully divulges that he installed the camera and then found that it had been removed when he went to check it about a week after the Black Guardian incident under the guise of a hypothetical scenario.
Portrayal
Edit
Tuckfeld is played by guest star Christopher Murray in the Amazon streaming series Bosch. He is a supporting character in the fourth season episode "Missed Connections".
Appearances
Edit
Community content is available under
CC-BY-SA
unless otherwise noted.