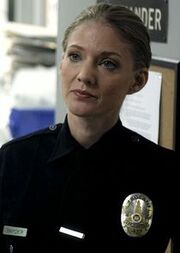 Sergeant Amy Synder is an investigator with the Los Angeles Police Department. She is part of the Internal Affairs division. Snyder is tasked with investigating a complaint about the conduct of Detective Harry Bosch when he publicly confronts District Attorney Rick O'Shea. She decides to uphold the complaint but her decision is overturned by Police Chief Irvin Irving exerting a little pressure on her commanding officer.
Snyder is partnered with Gabriella Lincoln. The two completed an the internal investigation into the involvement of RHD Detectives in the high profile Black Guardian case, where an innocent child abduction suspect was purportedly tortured. Snyder believes it is possible the detectives were guilty but was not able to gather enough evidence to file charges.
Later, a civil rights attorney named Howard Elias brings a civil case against the department about Black Guardian. Elias is murdered shortly after refusing to settle the case and Snyder and Lincoln are assigned to the investigating task force. Snyder has to find a way to work alongside Bosch on the case despite having written him up for misconduct as he is the lead detective and partners with her for much of the investigation.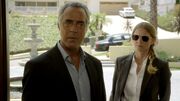 Snyder is played by guest star Winter Ave Zoli in the 2015 streaming series Bosch. She is a recurring character in the third and fourth seasons.
Community content is available under
CC-BY-SA
unless otherwise noted.