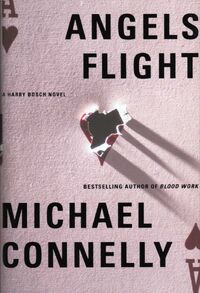 Angels Flight is the eighth novel written by Michael Connelly, and the sixth to feature LAPD detective Harry Bosch. The book was published in January of 1999, and won the 2000 Premio Bancarella under the title of Il Ragno, or "The Spider"; it was also nominated for the CWA's 1999 Gold Dagger, but lost to Robert Wilson's a Small Death in Lisbon.
Characters
Adaptation
The novel was adapted to provide major storylines in the fourth season of the series Bosch in 2018.
Lost Chapter
A lost chapter titled "1965" was written by Connelly during the writing on Angels Flight, but never made its way into the manuscript. The scene, set during the Watts Riots, is a flashback "in which Harry encountered significant racism for the first time." The chapter was made available through Connelly's website on 10 February 2013.