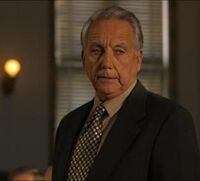 Cecil C. Dobbs, esq is the senior attorney in the firm of Dobbs and Delgado with an office in Century City, Los Angeles. He is an associate of Dennis Franks.
He was the family attorney for Mary Windsor and her son, Louis Roulet. Not being a criminal law specialist, he advised the family to seek other representation when Louis was arrested for aggravated assault and attempted rape on March of 2005. Initially he was skeptical of the selection of Mickey Haller as defense attorney, but he gradually came to see that Haller's strategy and methods were brilliant.
He also represented Whitney Vance. Prior to 2016 he had assisted Vance in revising his will to include a provision for a possible heir. However, Vance did not consult Dobbs when he decided to revise his will again in early October 2016, nor did he seek Dobbs's help to ask Harry Bosch to search for a possible heir. Dobbs did not become involved until Vance had died and his estate was to be probated.
Dobbs was played by Bob Gunton in the 2011 film.
Community content is available under
CC-BY-SA
unless otherwise noted.