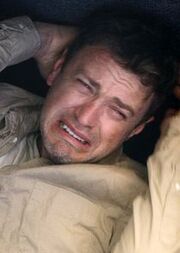 Charles Fagan is a Los Angeles resident who is murdered by drug organisation enforcers Stones and Hart following a car jacking. He was running errands near Farmacia Esquivel when his killers executed Jose Esquivel Sr. When the police were unexpectedly quick in responding to the scene Stones and Hart fled on foot and found Fagan putting dry cleaning in his trunk in a nearby parking garage. They pistol whipped him and stuffed him into his boot. They stole Fagan's car and drove him to a disused industrial lot in Newton Division. They then took him out of the car and Stones shot him in the head. They concealed his body in a dumpster and abandoned his car in a nearby alley.
Mrs Fagan was called by their dog groomer to ask who would be picking up their pet and realised that Charles had gone missing. She reported his disappearance to the police and was interviewed by Rondell Pierce who had linked Charles' last known location to the Esquivel homicide.
His body was discovered and his murder was investigated by Detective Santiago Robertson from the Newton Division Homicide Squad. Detective Robertson was able to trace Fagan's identity and informed Mrs Fagan of his death.
Fagan is played by Brady Romberg in the 2015 streaming series Bosch. He is a supporting character in the fifth season episode "Two Kinds of Truth".
Community content is available under
CC-BY-SA
unless otherwise noted.