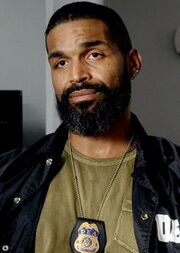 Charlie Hovan is an agent with the U.S. Drug Enforcement Administration (DEA) and an expert in Armenian drug gangs. In 2017 he was investigating a Russian-Armenian drug gang operating in southern California. The leader of the drug gang was a man known only as Santos. During the investigation of the Esquivel double murder, Jerry Edgar recommended that Harry Bosch and the San Fernando Police Department work with Hovan to infiltrate the gang. By working together, Hovan could bring down the drug gang and the SFPD could solve the murder case. Hovan reported that Santos' base of operation was the Slab City area near the Salton Sea in Imperial County. He proposed that someone from SFPD go undercover to gather evidence on Santos, and Bosch volunteered for the job.
Portrayal
Edit
Hovan is played by guest star Celestino Cornielle in the 2015 streaming series Bosch. He is a recurring character in the fifth and sixth seasons.
In the series Hovan initially declines to get involved in Harry Bosch and Jerry Edgar's investigation of the Esquivel pharmacy homicide. Bosch and Edgar develop the case through Once Bosch returns from his undercover work on the case and links Dalton Walsh as the leader of the drug ring responsible Hovan apologises and gives Bosch further intelligence about Walsh. The DEA raid the Slab City pill mill but find that Walsh and his remaining men have fled. Hovan warns the LAPD when Walsh flies back into Los Angeles. Walsh attempts to kill Bosch at his home and Bosch successfully defends his life, killing Walsh in the process.
Later Hovan advises Edgar about his investigation into the murder of Gary Wise. They discuss Jacques Avriel and his ties to corrupt detectives and Jamaican organised crime.
Appearances
Edit
Community content is available under
CC-BY-SA
unless otherwise noted.