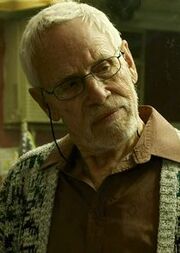 Dean
is a character in
Bosch
. He is the desk clerk at the City Center Hotel. Detective
Harry Bosch
questions him in relation to the murder of his mother. He provides Bosch with the hotel's guest book from the period. Bosch finds the name
Fox Mitchell
in the book on the date of the murder (October 9). Bosch uncovers that the name was an alias for a confidential informant named
Arno Epperson
.
18 months later Bosch receives evidence that Bradley Walker was linked to the case having attended the Malibu Sea Kings Preparatory School with Epperson. Boch returns the guest book and asks Dean to look at photos of Walker and Epperson. Dean does not recognize Epperson but confirms that Walker was a regular at the hotel. He recalls Walker's cocky attitude and his liaisons with various women at the establishment. He notes that he drove a Chevy Convertible and that he had to be warned for excessive noise more than once. Bosch questions why Walker's name was not in the guest book and Dean explains that guest's paying cash were not required to show ID and therefore could write in an alias.
Portrayal
Edit
Dean is played by guest star Bill Bolender in the Amazon streaming series Bosch. He is a recurring character appearing in the second season finale "Everybody Counts" and the third season finale "The Sea King".
Appearances
Edit
Community content is available under
CC-BY-SA
unless otherwise noted.