We're Getting Mutants in the MCU - The Loop
Play Sound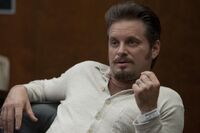 Dwayne Jeffery "D. J." Corliss (b. 1952) was an addict with a long history of arrests and convictions for drug use and property crimes. Corliss made a practice of testifying, often falsely, against other inmates by claiming that they had confessed to him, in order to get special consideration by prosecutors for his own offenses. He would say just about anything he was asked to say in order to get a lighter sentence.
In a 1989 rape case in Phoenix, AZ, Corliss falsely testified against another inmate, Frederic Bentley, who was then convicted. In 1997 Bentley's conviction was overturned by DNA evidence, proving that Corliss's testimony was false. However, no perjury charges were filed against Corliss. The case was reported in the Arizona Star newspaper.
On 5 March 2005, Corliss was arrested in Los Angeles for stealing a bike. At his first appearance in court he was placed in a holding cell with Louis Roulet. Although he had no conversations with Roulet, Corliss contacted the D.A.'s office to say that Roulet had confessed to him. The prosecutor in the Roulet case thought he might want to use Corliss as a witness, but he did not want to disclose this witness to the defense. Corliss was placed in a lockup Rehab unit at County-USC Medical Center where he would be available to the prosecution but not accessible to the defense.
While in lockup, Corliss was approached by another inmate, Gloria Dayton, who somehow persuaded Corliss to add certain details to his testimony if he was called as a witness. Dayton did this at the request of her attorney. Specifically, she asked Corliss to state that Roulet had admitted killing a girl that worked in a "snake pit." This was a reference to Martha Renteria who had worked as a stripper/dancer at the Cobra Room. It is not clear how Dayton persuaded Corliss to add this detail to his testimony, but it is possible that she used either sex or money. Corliss was called as the final prosecution witness and his testimony, though false, linked Roulet to the murder of Renteria. Again Corliss was not charged with perjury because it would have been embarrassing to the D.A.'s office.
Portrayal
[
]
In the 2011 film, Corliss was played by Shea Whigham.
Appearances
[
]