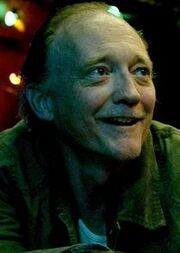 Edward Gunn (b. 1954; d. 1 Jan 2001) was an intinerant house painter who lived in apartment 2B of the Grand Royale Apartments on Sweetzer Avenue in Los Angeles. Gunn had a number of small offenses in his past, including soliciting for prostitution and DUI. In 1994, Gunn stabbed a prostitute in what was ruled a self-defense killing when Gunn alleged that the women attempted to stab and rob him. The killing was investigated by LAPD detective Harry Bosch. Gunn was released and not charged.
Gunn was arrested and held overnight several times for public drunkeness. On 30 December 2000, he was arrested in Hollywood, and held in the Hollywood division station, where he was interviewed by Bosch once more. Gunn refused to talk to the detective, and Bosch left him in the holding cell.
On the morning of 1 January 2001, Gunn was accosted in his apartment and trussed with baling wire around his feet and hands. A length of wire was also tied from ankles to his neck up his back such that Gunn had to hold his legs in a painful position in order not to strangle himself. Over the course of several hours, Gunn weakened until he was unable to hold that position, eventually succumbing to asphyxiation. He was trussed in a manner similar to a figure in the painting The Last Judgement by the 15th century artist Hieronymus Bosch.
He was found with a bucket over his head and duct tape wrapped around his mouth with the words "Cave Cave Dus Videt" written on the tape. This phrase is also found in one of Bosch's paintings. His murder was investigated by Sheriff's detectives Jaye Winston and Kurt Mintz, and Winston later enlisted the help of former FBI profiler Terry McCaleb. When McCaleb reviewed the crime scene video he noticed a plastic owl in the background, which he believed to be significant. This led police to suspect that Detective Bosch killed Gunn. However, further investigation led to the actual killer.
Gunn is played by guest star Frank Clem in the Amazon streaming series Bosch. He is a recurring character in the third season.
In the series Gunn is also murdered as part of a criminal conspiracy frame Harry Bosch in order to discredit the detective.
Community content is available under
CC-BY-SA
unless otherwise noted.