Edward "Sharkey" Niese (b. 1975; d. 24 May 1990) was a graffiti tagger and small-time criminal who occasionally lived with his mother in Chatsworth, Los Angeles. He was seventeen years old and had blonde dreadlocks. He was known to ride a yellow motorbike with the license number JVN138. He had no gang affiliation but had extensive contacts with the police. His primary occupation was selling nude photographs of himself to gay men in the Hollywood area. He and his two associates also ran a scam in which they would entice gay men to pick up Sharkey, then assaulting and robbing them.
On the morning of 20 May 1990, he saw the body of Billy Meadows being discarded in a pipe near the Hollywood Reservoir, and placed an anonymous call to 911. The next day he was arrested for an unrelated offense and taken to Hollywood station where Harry Bosch sees him handcuffed to a bench. However, at this time Bosch did not know who he was. Niese was released to his mother's custody around noon that same day.
He was later found and interviewed by Bosch and FBI agent Eleanor Wish. He was able to generally identify the jeep that the killers arrived in, as well as a very vague description of the person that was driving and the person who dragged the body into the pipe. After the interview, Bosch took Niese to the Home Sweet Home shelter; Niese stayed the night, and left early the next morning to reconnect with his associates Arson and Mojo.
On 24 May 1990, Niese allowed himself to be picked up by a man driving a Pontiac Grand Am and wearing a Rolex Presidential wristwatch. The man claimed to work for the Hollywood Bowl. It was John Rourke who then murdered Niese in the pedestrian tunnel under the Cahuenga Pass near the Hollywood Bowl. Both Bosch and Wish understood that the murder of Niese was connected with the murder of Meadows and the break-in at WestLand National Bank. Bosch also understood that it indicated an inside man, either in the FBI or the LAPD.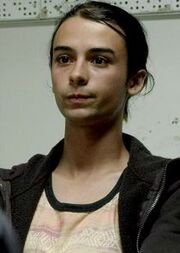 Niese is played by guest star Bridger Zadina in the third season of the streaming series Bosch. The character is named Thomas Niese, rather than Edward Niese, in the series but is still primarily known as Sharkey. His appearance is different to that described in the book. His broad storyline as a witness who is murdered after speaking to Harry Bosch is maintained along with the specifics of his murder. The crime he witnesses and those responsible are slightly different. The television series also deepens his connection with Bosch by having him share a background of spending time in the same orphanage.
Community content is available under
CC-BY-SA
unless otherwise noted.