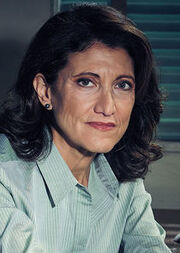 Lt. Grace "Bullets" Billets
is the commanding officer of the
LAPD
Hollywood Division's detective bureau, a position she took in late 1994 following the death of
Harvey Pounds
. At that time she was in her 40's with a medium build, reddish-brown hair, and no makeup. She likes to wear cowboy boots. She is a "closet" lesbian in a relationship with Detective
Kizmin Rider
.
She restructured the detectives in the Hollywood Division into three-man squads, placing a Detective III in charge of each of the three teams. She assigned Harry Bosch as the III in charge of Squad One, with Jerry Edgar and Rider. Like Pounds, Billets had no previous experience on the homicide table, but her managerial style was very different from Pounds'. She and the rest of the detectives in Hollywood got along much better. Nevertheless, she often found herself in the uncomfortable position of mediating between Bosch and her own superiors, Capt. LeValley and Asst. Chief Irvin Irving.
In the case of Anthony Aliso, she assisted Bosch and his team in the freelance investigation that led to the arrest of Officer Ray Powers.
In the case of Arthur Delacroix, she was initially reluctant to devote much attention to the case because the remains were unidentified and had been buried for over 20 years. After the suicide of Nicholas Trent and the death of Julia Brasher, the case took on a life of its own forcing Billets to assign significant manpower to the investigation and to help handle the potential embarrassment to the department.
Portrayal
Edit
Billets is played by starring cast member Amy Aquino in the Amazon streaming series Bosch. The character has a daughter named Lisa Billets in the series.
Appearances
Edit
Community content is available under
CC-BY-SA
unless otherwise noted.