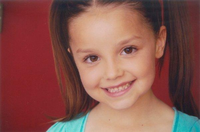 Hayley Haller (b. 1997) is the daughter of Los Angeles prosecutor Margaret McPherson and criminal defense attorney Mickey Haller, the granddaughter of J. Michael Haller, the niece of LAPD detective Harry Bosch, and cousin of Madeline Bosch. In 2010 she met her cousin and they became friends. At this time her relationsip with both of her parents was reasonably good despite their divorce. She wished that her father represented victims rather than criminals, but she saw him regularly on weekends and Wednesday evenings.
In early 2012 when she was 16 years of age, her father's client killed Sandy and Katie Patterson. Hayley decided that she did not want to see her father again. Katie Patterson had been her friend and Sandy had been her homeroom teacher. There was considerable press coverage about the case because her father was running for D.A. at the time. Hayley was forced to change schools, transferring to Skyline High School. She seemed to adjust well to the new school, making new friends and joining the soccer team. By 2013 her interest in soccer had faded and she became interested in horses. Her mother leased a horse for her, and she sent Haller a photo of Hayley on the horse.
In the 2011 film, Halley is played by Mackenzie Aladjem.
Community content is available under
CC-BY-SA
unless otherwise noted.