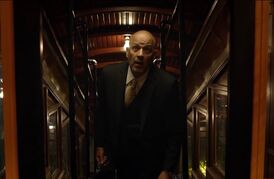 Howard Elias
(
b. 1952; d. 1998
) was the husband of
Millie Elias
, the father of
Martin Elias
, and a civil rights attorney in
Los Angeles
who built his career by representing citizens who sought to sue the
Los Angeles Police Department
for brutality. In the 10 years prior to his death he sued the department over 100 times and won more cases than he lost. He and his family lived in a two-story brick colonial-style house on Beck St. in Baldwin Hills, a suburb of Los Angeles sometimes referred to as the Black Beverly Hills. He also maintained an apartment near his office in a complex called The Place. He operated his law office out of the
Bradbury Building
. Elias was carrying on an affair with
Carla Entrenkin
.
In 1998, he was retained to represent Michael Harris in the so-called "Black Warrior" case. Two days before the trial was scheduled to start, he was shot and killed along with Catalina Perez aboard the Angels Flight. Perez was shot once in the chest. Elias was shot three times, in the face, in the back of the head, and in the anus. His murder was a high profile incident to be handled with great sensitivity due to his adversarial relationship with the police. For this reason, Deputy Chief Irvin Irving assigned the investigation to Harry Bosch, Jerry Edgar, and Kizmin Rider, even though the murder occurred far outside the territory of Hollywood Division. Part of the reason for assigning the case to the Bosch's team is that none of them had ever been sued by Elias. There was also the racial aspect; Edgar and Rider both have African-American ancestry.
The two bodies were found by the funicular operator, Eldridge Peete, at 11:00 pm. Everyone immediately suspected that the murder was committed by someone in the department who had a grievance with Elias. For this reason, Detectives from IAD were assigned to assist with the investigation, including John Chastain, Loomis Baker, and Joe Dellacroce.
Appearances
Edit
Portrayal
Edit
Howard Elias is played by Clark Johnson in the fourth season of the Amazon streaming series Bosch.
Community content is available under
CC-BY-SA
unless otherwise noted.