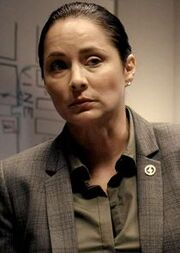 Julie Espinosa is a detective with the Robbery-Homicide Division of the Los Angeles Police Department, and the partner of Brad Conniff.
Espinosa and Conniff are investigating a serial killer and brief their colleagues in the Hollywood homicide squad about his signature - scratching a cross in to the big toe of his victims.
Espinosa is the detective on the scene following the murder of Gary Wise. She informs Detective Jerry Edgar about the death of his confidential informant.
Espinosa is played by guest star Jacqueline Piñol in the 2015 streaming series Bosch. She is a recurring character in the second and fifth seasons.
Community content is available under
CC-BY-SA
unless otherwise noted.