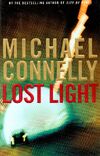 Lost Light is the thirteenth novel written by Michael Connelly and the ninth novel featuring Los Angeles Police Department detective Harry Bosch, as well as being the first Bosch novel to be narrated in the first-person. The book was published on 1 April 2003.
According to a July 2004 interview, Connelly originally intended for the title of Lost Light to be Dark Sacred Night, borrowing the lyric from the 1968 Louis Armstrong song, "What a Wonderful World." Connelly also intended to write a follow-up Bosch book entitled Bright Blessed Day, another lyric from the same Armstrong song, but had no plot in mind for the title.
Citing marketing problems, his publisher convinced him to drop the title Dark Sacred Night, and Connelly subsequently abandoned the title Bright Blessed Day as well, writing The Narrows instead. The title Dark Sacred Night was then given to a CD of jazz music that was released with Lost Light.
The phrase "lost light" was first mentioned by Bosch to Terry McCaleb in A Darkness More Than Night when Bosch described the seemingly-sourceless light he encountered in as a tunnel rat in the Củ Chi tunnels during the Vietnam War.
The phrase later appeared in City of Bones when Bosch learned was called to the discovery of a child's bones in Laurel Canyon; he later asked Julia Brasher if she had seen the ambient light when she told him she had visited the tunnels in Vietnam, and she confirmed that she had.
The phrase appeared again in The Black Box when Bosch was held captive overnight in an abandoned barn on Carl Cosgrove, Jr.'s property, remembering "that there was lost light in all places of darkness."
In February of 2015, the phrase was used as the title of the second episode of the streaming series Bosch.
Community content is available under
CC-BY-SA
unless otherwise noted.