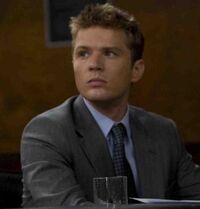 Louis Ross Roulet (b. 1973) is the son of Mary Alice Windsor, and a resident of Beverly Hills. He lives in the guest house of his mother's home and works as a real estate agent in his mother's firm. He is single, about 6 ft. in height and 180 lbs. He is a graduate of UCLA and claimed to have attended one year of law school at UCLA, although he never actually attended law classes. His last IRS return (2004) showed an income of approximately $250,000.
Although he had never been arrested before 2005, Roulet is a violent, predatory serial killer. His modus operandi is to target strippers or prostitutes, usually petite Latinas. He uses a knife to control them, then rapes and kills them. He is very good at covering his tracks and can appear quite charming and innocent when necessary.
On 8 April 2003 he murdered Martha Renteria. The murder was pinned on Jesus Menendez, the client she had entertained earlier, because he left DNA evidence at the scene.
On 6 March, 2005, Roulet was arrested for aggravated assault and the attempted rape of Regina Campo. The assault charge was later bumped up to attempted murder. Although Cecil Dobbs was the family's lawyer, Roulet was represented in this case by Mickey Haller. Bail was set at $1 million, and a bond in that amount was provided by Fernando Valenzuela. To secure the bail bond, Valenzuela required Roulet to wear an electronic tracking bracelet on his ankle.
Roulet's primary defense strategy was the claim that Campo had staged the alleged assault in order to file a follow-up civil suit against him. When Haller's investigator, Raul Levin, began to find evidence of Roulet's involvement in the murder of Renteria, Roulet broke into Haller's home and stole a pistol. He then convinced his mother to kill Levin with the stolen pistol, directing suspicion away from himself and onto Haller. The tracking bracelet proved that Roulet could not have killed Levin. Roulet then confessed to Haller that he was guilty of the Campo assault as well as other murders, and he used the stolen pistol as leverage to keep Haller in line.
Roulet's trial in May of 2005 resulted in the changes being dropped due to prosecutorial errors that were highlighted by Haller's defense tactics. However, clues left by Levin and Haller led detectives to arrest him for Renteria's murder. He was released after questioning and he immediately conspired with his mother to kill Haller and perhaps also his ex-wife and daughter. Roulet was once more arrested.
In the 2011 film, Roulet was played by Ryan Phillippe.
Community content is available under
CC-BY-SA
unless otherwise noted.