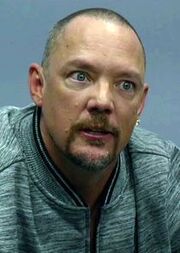 Luke "Lucky" Goshen
was the manager of
Dolly's
in
Las Vegas
,
Nevada
, and an associate of
Joseph Marconi
's. He is large, tan, and wore his long hair in a braid down his back. He wears tattoos of a one-percent sign, a
Harley Davidson
insignia, and the number
88
. Goshen is also an undercover FBI agent seeking to end Marconi's operation. His real name is
Roy Lindell
.
In October of 1996, he encountered LAPD detective Harry Bosch, who had visited Las Vegas to investigate the murder of Anthony Aliso. The next day, he was arrested in his home by a team of detectives including Bosch, Iverson, Cicarelli, Baxter, Parmelee, and John Felton. In the process of searching Goshen's house, Bosch found a gun hidden behind the toilet tank. The gun was believed to be the Aliso murder weapon.
Marconi had Eleanor Wish put in a safe house outside Las Vegas in order to test whether Goshen would talk to the police. Bosch threatened to shoot Goshen unless he told where Eleanor was being kept. Goshen told Bosch who then rescued Wish.
Goshen was extradited to Los Angeles where Bosch learned that Goshen was undercover, and thus the gun was planted. He was released from custody and attended a meeting with Bosch concerning the allegations that Bosch had planted the gun to frame Lindell for Aliso's murder. Goshen later returned to Las Vegas to participate in the surveillance of Silver State National Bank.
Portrayal
Edit
Goshen, whose undercover name is revealed to be Lucky Rykov, was played by Matthew Lillard in the second season of the streaming series Bosch.
Appearances
Edit
Community content is available under
CC-BY-SA
unless otherwise noted.