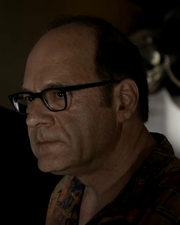 Nicholas Trent
(
b. 1944; d. Jan 2002
) was a set decorator with a film studio in
Burbank
. Due to the nature of his work, he had in his home numerous boxes of everyday items that could be used to decorate a movie set. Among these items was a skateboard that had belonged to
Arthur Delacroix
. He also had a copy of the poster for the movie "Art of the Cape" which was produced by
Anthony Aliso
.
In the 1960s, Trent was an elementary school teacher, but in 1966, he was convicted of molesting a nine-year-old boy when he was caught in the school's bathroom holding the student's privates while he urinated. He subsequently served fifteen months of a two-year sentence at Wayside Honor Rancho. In 1975, he began working as a set decorator, and in 1984, he moved to Laurel Canyon where he rented a house on Wonderland Avenue; in 1987, he bought the house from the landlord.
In January of 2002, he was questioned by LAPD detectives Harry Bosch and Jerry Edgar after the bones of a child were discovered on the wooded hillside near his house. He was briefly considered a suspect, but he was later ruled out when it was determined that the victim had been killed in 1980, four years before Trent moved to the neighborhood. In addition, Edgar had reviewed the old molestation conviction and felt that it was "weak" and probably should never have been prosecuted.
After Trent was questioned, his conviction was leaked by a detective and broadcast on the Channel 4 news, leading Trent to commit suicide by hanging himself in his bathroom after writing a three-page note. He was found the next afternoon by detectives Bosch and Edgar. While some people mistook the suicide as proof of guilt, Bosch remained convinced that Trent was not the killer. The note made an obscure reference to "his children" and asked who would take care of them. Bosch later found a box of information about underprivileged children that Trent was sending money to. Bosch delivered this box to Christine Dorsett.
Portrayal
Trent is played by guest star Rob Brownstein in the 2015 streaming series Bosch. He is a recurring character in the first season.
Appearances
Community content is available under
CC-BY-SA
unless otherwise noted.