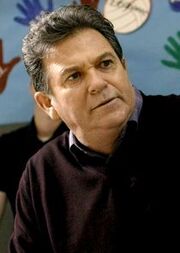 Phil Gentry is a parent and businessman. His daughter Becca Gentry attends high school with Madeline Bosch. Gentry learns that Madeline's father Harry Bosch is an LAPD detective and approaches him to quash a traffic ticket. Bosch agrees but later throws the ticket away without taking any action.
Bosch later uses Gentry's name to gain access to a fundraising dinner at an upscale hotel. Gentry is turned away when he arrives as his pass has already been claimed and he spends the evening in the hotel bar, eventually bumping into Bosch and sharing a drink with him, still unaware of the ruse.
Gentry is played by guest star Erich Anderson in the 2015 streaming series Bosch. He is a recurring character in the third and fourth seasons.
Community content is available under
CC-BY-SA
unless otherwise noted.