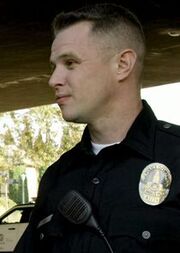 Ray Powers (d. 7 Sept 1996) was a police officer with the Los Angeles, Police Department's Hollywood Division until the mid-1990s. He was a large man with a sun-reddened skin face and bristly blonde hair. He wore mirrored Ray-Ban sunglasses. He lived in a small bungalow on Sierra Bonita St.
In March 1996, Carl Nash responded to a burglary call at the Aliso home and in the process he met Veronica Aliso. They began an affair, and Nash visited Veronica whenever her husband was out of town. Powers conspired with her to kill her husband. Their intention was to get away with a large amount of her husband's money and to give the impression that he was killed by his mob associates in Las Vegas. On Friday, 30 August, 1996, Powers pulled over Aliso's Rolls-Royce Silver Cloud on Mulholland Drive as Aliso was driving home from LAX. He handcuffed Aliso, then pepper-sprayed him and put him into the trunk of his Rolls, removing his overnight bag from the trunk and throwing it down in a canyon. Veronica then drove the Rolls to an isolated area off the road where Powers shot Aliso twice in the back of the head with a .22 caliber pistol. To frame Luke Goshen and give the impression of a mob hit, Powers later drove to Las Vegas and planted the murder weapon in Goshen's bathroom.
On 2 September 1996, Powers called in the discovery of the body. Harry Bosch, Jerry Edgar and Kizmin Rider responded. Bosch observed that Powers carried a well-worn nightstick, indicating that he was a headbanger with an attitude. All three detectives noted his racist attitude toward Edgar and Rider. Powers drove a Zebra Unit, meaning that he was a "rover" who did not have a partner and he was given a lot of "trash" calls to respond to.
When it became clear to Bosch that the Las Vegas connection was a set-up, he turned his attention to Veronica and Powers. Bosch, Edgar and Rider arrested Powers, and under intense questioning he confessed to his role in the murder. However, he escaped from custody and fled to Las Vegas.
On 7 September 1996, he shot and killed Giuseppe Marconi, John Felton, and Veronica Aliso, and was shot to death himself by federal agents in the parking lot of a Silver State National Bank branch in Las Vegas, Nevada.
Portrayal
[
]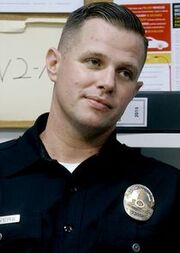 Powers was played by Ryan Ahern in the 2016 episode "Trunk Music" of the streaming series Bosch. Much of the characters storyline including his criminal activities are shifted to the character of Carl Nash in the adaptation. This leaves him still an active member of the Hollywood Division patrol force at the close of the second season. The character recurs in the third, fourth, fifth and sixth seasons.
In the fifth season Powers crashes his patrol car into the vehicle of Detectice Barrel Johnson when responding to a robbery in progress. He is adamant that the Detective is responsible. He injures his foot and his partner Officer Franco Rodriguez sustains a neck sprain.
In season six Powers accompanies Bosch and Edgar to talk with the brother of a suspect in the murder of Stanley Kent. It all goes bad when FBI agents barge in and cause a shootout in which Powers is wounded.
Appearances
[
]