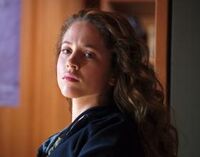 Regina "Reggie" Campo (b. 1979) is an aspiring actress, part-time telephone solicitor, and a semi-pro call girl working in Los Angeles. She is a resident of apartment 211 at 1760 White Oak Boulevard in Tarzana. She tends to frequent a bar called Morgan's where she can meet and evaluate potential clients. One of her repeat clients was Charles Talbot.
On 6 March 2005, Campo met Talbot at the bar and set up a date with him. After Talbot left the bar, she set up a date with Louis Roulet for 10:00 p.m. after she had finished with Talbot. When she opened her door for Roulet, he violently assaulted her and told her that he intended to rape and murder her. She fought back and was able to knock Roulet unconscious with a vodka bottle. She then ran out of her apartment and alerted neighbors who called 911.
During Roulet's trial she was called as a witness for the prosecution. Mickey Haller noted that Campo had an uncanny resemblance to murder victim Martha Renteria.
Portrayal
Edit
In the 2011 film, Campo was played by Margarita Levieva.
Appearances
Edit
Community content is available under
CC-BY-SA
unless otherwise noted.