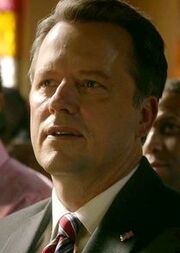 Rick O'Shea
is the head of the District Attorney's Office Special Prosecutions team. He is responsible for the prosecution of
Raynard Waits
, known as the Echo Park Bagman, for the murder of two women. He becomes involved in a proffer for Waits to admit to further murders, reveal the locations of the bodies and accept life imprisonment without parole in exchange for the prosecution ruling out the death penalty. O'Shea is a candidate for District Attorney in the next election at this time. His opponent in the election is
Gabriel Williams
.
O'Shea arranges for Waits to take them to the burial site of one victim, Marie Gesto, which is in Beachwood Canyon. They are accompanied by Deputy Doolan from the Sherrif's department, several forensics technicians, Detective Harry Bosch (lead investigator on the Gesto case), Detective Kizmin Rider, Detective Freddy Olivas (lead investigator on the original two murders), Corvin (O'Shea's videographer) and Waits's attorney. O'Shea agrees that Waits can be uncuffed to climb a ladder across difficult terrain. Waits escapes while uncuffed, killing Olivas and Doolan and wounding Rider. O'Shea flees the scene initially and then returns when Waits has left. He then helps the survivors to transport Rider out of the woods.
In the aftermath of this incident an edited version of Corvin's recording is submitted to the police. O'Shea's flight and his discussions regarding uncuffing Waits have been deleted. O'Shea gives interviews to the media focusing on his actions in rescuing Rider in order to appear heroic. Bosch believes that O'Shea is responsible for editing the video to preserve his image. Furthermore, Bosch suspects O'Shea may have been involved in setting up Waits's false confession. He links O'Shea to the real culprit, Anthony Garland, through campaign contributions. O'Shea denies any involvement and then threatens Bosch's career, claiming that he has friends high up in the police department. Bosch is then threatened by the Officer Involved Shooting Unit and believes this is due to O'Shea's threats.
Through a series of events, Bosch finds that O'Shea was not involved in Waits's phony confession and that he was being set-up through campaign contributions. O'Shea works with Bosch and the FBI to sett up a sting in which Abel Pratt will gather evidence of Anthony's guilt in the Gesto murder and his father's involvement in the conspiracy. Anthony shoots and kills Pratt and is then killed by the FBI. O'Shea is left to prosecute Thomas Rex Garland.
Appearances
Edit
Community content is available under
CC-BY-SA
unless otherwise noted.