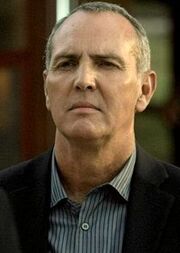 Rudy "Valentino" Tafero was a private investigator for criminal defense attorney J. Reason Fowkkes, and a former burglary detective with the Los Angeles Police Department's Hollywood Division. He was the proprietor of Valentino Bonds, and the older brother of Jesse Tafero.
When David Storey was arrested in October of 2000, Storey contacted Tafero who then took him to Fowkes. They developed a plan to investigate Storey's arresting officer, Harry Bosch. From his time with the LAPD, Tafero knew of Bosch's 1994 altercation with Lt. Harvey Pounds over the premature release of Edward Gunn, and he harbored a deep resentment toward Bosch over Pounds' subsequent death. Tafero then met with Storey several times while Storey was in prison, and the two devised a plan to murder Edward Gunn and frame Bosch for the crime in order to discredit Bosch as a witness.
On 31 December 2000, he received an anonymous phone call revealing that Gunn had been arrested and was being held at the Hollywood Division station. Tafero bailed Gunn out of jail, and returned him to the Grand Royale Apartments where he murdered Gunn in a manner reminiscent of the paintings of Hieronymus Bosch. He also placed a plastic owl at the murder scene to further suggest the detectives involvement. Several weeks later, after the Storey trial began, Tafero placed an anonymous call to journalist Jack McEvoy to leak the connection between Gunn's death and Bosch.
When former FBI profiler Terry McCaleb began piecing together the true series of events, Tafero attacked McCaleb aboard his boat and attempted to murder him in a way similar to the way in which he had killed Gunn, thus framing Bosch again. He also intended to kill Jaye Winston the same way. Bosch, however, arrived and incapacitated Tafero, narrowly saving McCaleb's life. During questioning by Jaye Winston and Alice Short, with Irvin Irving, Don Twilley, Bosch and McCaleb observing, Tafero made a deal to turn over evidence that Storey was behind the attempted framing of Bosch in order to avoid the death penalty. The evidence consisted of sketches of the way storey wanted Gunn's body posed, which Tafero had kept in a safe deposit box.
Tafero is played by guest star Arnold Vosloo in the Amazon streaming series Bosch. He is a recurring character in the third season.
In the series Rudy and Jesse are part of a criminal conspiracy to murder Ed Gunn and frame Harry Bosch in order to discredit the detective.
Community content is available under
CC-BY-SA
unless otherwise noted.