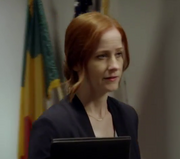 Shayda Miller is the police information officer for the Los Angeles Police Department. She works closely with Chief of Police Irvin Irving whenever a press release or press conference is needed.
Following the murder of Howard Elias she briefs Irving ahead of a press conference. Elias was a prominent civil rights attorney and a reviled figure among the rank and file of the LAPD due to his repeated lawsuits against police officers. In particular Elias had many enemies in the Robbery Homicide Division after pursuing a conviction of officers involved in the high profile Black Guardian suspect torture case. Concerned that an officer may be responsible for Elias' shooting Irving checks in with the lead detective, Harry Bosch, regarding the possibility that the murder was a botched robbery. Bosch explains that while Elias' wallet and watch were removed from the scene they have been discovered nearby after an anonymous tip via Captain Garwood, the RHD commander. Miller smartly ignores the new information and truthfully briefs the press that the wallet and watch were missing from the scene to imply a possible robbery. Irving comments on her knack for "spinning" a story to the department's advantage.
Miller is played by co-star Christine Weatherup in the 2015 streaming series Bosch. She is a recurring character in the fourth season.
Community content is available under
CC-BY-SA
unless otherwise noted.