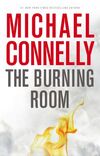 The Burning Room is the 27th novel written by Michael Connelly, and the seventeenth to feature LAPD detective Harry Bosch. The book was released on 3 November 2014 in the United States and Canada, and on 6 November 2014 in the United Kingdom, Ireland, Australia and New Zealand.
In December of 2013, Connelly said of the novel: "Before we started filming Bosch, I was working on a new Harry Bosch book. I don't have a title yet, but in it, Harry's got a new partner. He's in his final couple of years of being a detective and I think he's trying to be a mentor more than he has in the past. Usually he kept his partners distant and dispensable. Now Harry's paired with a partner who he thinks may be the real deal and could be a person on a mission like he has been all his professional life. So he wants to pass something on. Geographically, this case takes him into a new part of Los Angeles; the investigation is primarily centered in East L.A., so there will be a lot of new stuff, but at the same time, very familiar. It should be coming out this time next year and hopefully will coincide with the TV show."
On 17 February 2014, Connelly released a synopsis of the novel. On 22 May 2014, the first two chapters of the book were released on Connelly's Facebook page.
In the LAPD's Open-Unsolved Unit, not many murder victims die almost a decade after the crime. So when a man succumbs to complications from being shot by a stray bullet nine years earlier, Harry Bosch catches a case in which the body is fresh but any other evidence is virtually nonexistent.
Now Bosch and his new partner, rookie Detective Lucia Soto, are tasked with solving what turns out to be a highly charged, politically sensitive case. Starting with the bullet that's been lodged for years in the victim's spine, they must pull new leads from years-old information, which soon reveals that this shooting may have been anything but random.
Community content is available under
CC-BY-SA
unless otherwise noted.