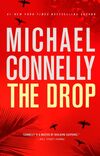 The Drop is the 24th novel written by Michael Connelly, and the fifteenth novel featuring Los Angeles Police Department detective Harry Bosch. The book was published on 22 November 2011.
The novel was referenced in an October 2010 interview, in which Connelly indicated that he'd like to release "'bookend' novels next year, the second one a Bosch book." Connelly's first novel of 2011 was the Mickey Haller novel The Fifth Witness, released in April, meaning that his 15th Bosch book would be released in the Fall of the year.
The title of the book is derived from an acronym for the Deferred Retirement Option Plan for police and firefighters. It also refers to the drop from the seventh floor of the Chateau Marmont Hotel that killed one of the novels victims, as well as the drop of blood that was used to identify a suspect in an unsolved 1989 homicide.
The book was later mentioned in a February 2011 interview, in which Connelly explained that Bosch will be "handling two cases at once, a cold case that turns hot, and the politically charged investigation into the death of a city councilman's son. The city councilman happens to be Harry's old nemesis, Irvin Irving."
The book's listing on Amazon.com contains the following description:
"Harry Bosch has been given three years before he must retire from the LAPD, and he wants cases more fiercely than ever. In one morning, he gets two.
"DNA from a 1989 rape and murder matches a 29-year-old convicted rapist. Was he an eight-year-old killer or has something gone terribly wrong in the new Regional Crime Lab? The latter possibility could compromise all of the lab's DNA cases currently in court.
"Then Bosch and his partner are called to a death scene fraught with internal politics. Councilman Irvin Irving's son jumped or was pushed from a window at the Chateau Marmont. Irving, Bosch's longtime nemesis, has demanded that Harry handle the investigation.
"Relentlessly pursuing both cases, Bosch makes two chilling discoveries: a killer operating unknown in the city for as many as three decades, and a political conspiracy that goes back into the dark history of the police department."
Connelly auctioned off the naming of a character in The Drop on eBay. The fundraiser will benefit the DeKalb County Public Library Foundation. The bidding ran until 13 March 2011, at which time, after 65 bids, the auction closed at $2,917.00.
Community content is available under
CC-BY-SA
unless otherwise noted.