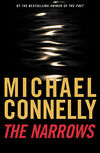 The Narrows is the fourteenth novel written by Michael Connelly, and the tenth novel featuring Los Angeles Police Department detective Harry Bosch, as well as the second featuring FBI agent Rachel Walling, the third (and final) appearance by former FBI profiler Terry McCaleb, and the second (brief) appearance by Cassidy Black. The book is the second and final featuring Bosch to be written in the first person, and alternates between his point-of-view, Walling's third-person perspective, and the Poet's third-person perspective.
The novel was published on 30 April 2004, and is the first of two sequels to The Poet.
Community content is available under
CC-BY-SA
unless otherwise noted.