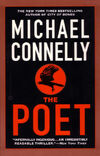 The Poet is the fifth novel written by Michael Connelly, and the first to feature Rocky Mountain News reporter Jack McEvoy; it is Connelly's first novel not to feature LAPD detective Harry Bosch. The book was published in June of 1996, and won the 1997 Dilys Award (for Connelly's second consecutive Dilys win, after 1996's The Last Coyote), the 1997 Anthony Award, and the 1997 Nero Award.
Within the continuity of Connelly's fictional Los Angeles, the book was a nonfiction account of the investigation that was ostensibly written by McEvoy. A copy of the book was read by agent Rachel Walling in April of 2004, and another copy of the book was found in the home of Declan McGinnis during the investigation into the Scarecrow murders.
Jack's twin brother, Denver homicide detective Sean McEvoy, is is found dead in a car with an apparently self-inflicted gunshot wound. Initially ruled a suicide, Jack uncovers evidence that the death was in fact a homicide. Sean's last words scrawled in a fogged windshield – "Out of space, out of time" – turns out to be a quote from Edgar Allan Poe; further research reveals similar Poe quotes at the scene of seeming suicides by police officers. Jack goes on the trail of a serial killer of police officers nicknamed "The Poet", and ends up hunting an Internet pedophile named William Gladden.
Major Characters
Edit
Continuity
Edit
Appearances
Edit
Community content is available under
CC-BY-SA
unless otherwise noted.