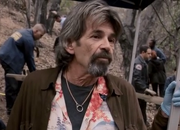 Dr. William Golliher is a forensic anthropologist with UCLA who works on retainer for the medical examiner's office. He also examines prehistoric human remains found in the La Brea Tar Pits. He is a person of strong religious faith which he believes is helpful in coping with the human misery that he sees in his work.
In January 2002 he examined the bones that had been exhumed from the shallow grave off Wonderland Avenue. He estimated that the victim was 10-13 years of age at the time of his death and that the body had been buried for 20-25 years. He also noted that the bones indicated a history of physical abuse, with 44 separate indications of trauma.
Later, Dr. Golliher compared x-rays of the exhumed skull with x-rays of Arthur Delacroix taken on 11 February, 1980 at Queen of Angels Hospital. The comparison confirmed that the the victim was Delacroix.
Portrayal
[
]
Golliher is played by guest star Alan Rosenberg in the series Bosch and in the Amazon Freevee spin-off "Bosch: Legacy" (recently rebranded from IMDb TV).
Appearances
[
]